THE SELECTION
100% SICILIAN WHEAT
The fragrance of wheat has nuances in Sicily that are difficult to find elsewhere: the native wheats come back to fill the fields, to rebuild the landscapes, enriching the biodiversity that has always characterized the island.
The lower quantity of gluten in ancient Sicilian grains means that all the products obtained from them are lighter, easy to digest, with less probability of developing increasingly widespread intolerances.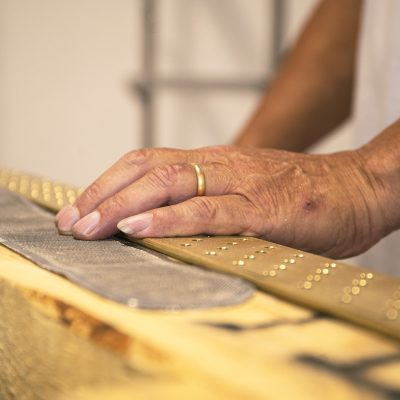 PRODUCTION
BRONZE DROWN, DRIED AT LOW TEMPERATURES
Today as then, Donna Itriya is a Pasta made with 100% Sicilian wheat, a precious gift from this incredible land of ours, mixed with pure water, bronze drown and finally dried with the patience of those who have always made pasta and the breeze that comes from the sea.
The drying process follows the tradition of artisan pasta factories which is very different from the industrial process. The artisan pasta factories, in fact, operate in long times ranging from 17 to 48 hours and more, according to the formats.
The drying process takes place at low temperatures, no more than 45 degrees centigrade, the maximum threshold in order not to alter the nutritional and organoleptic qualities of the product. The large pasta industry, on the other hand, shortens the process considerably, with a drying period ranging from 2 to 12 hours, bringing temperatures to even exceed 90 degrees centigrade.
THE TRADITION
THE ANCIENT WAY OF PASTA
The history of pasta starts again in Casteldaccia, in what was called the «way of pasta», thanks to the pasta making tradition. After centuries, Donna Itriya brings back to life the miracle of that first pasta, born right here, between the sea and the hills once inhabited by the Saracens.
That same pasta spoken of by the ancients whose tales of amazement and wonder have come down to us.
CRAFTSMANSHIP MEETS INNOVATION
Donna Itriya produces, using the most modern technologies, for a production capable of satisfying the current needs of the sector, but always following the rules and passages of the oldest Sicilian tradition of artisan pasta.